Blomberg American Style Fridge Freezer In Stainless Steel KFD4953XD
€1,479.00
( Included in this price is a contribution to recycling costs of €10.00 )
Product Fiche
DIMENSIONS (cm)
Height: 182.5 Width: 84.0 Depth: 74.5
1 in stock
Description
FEATURES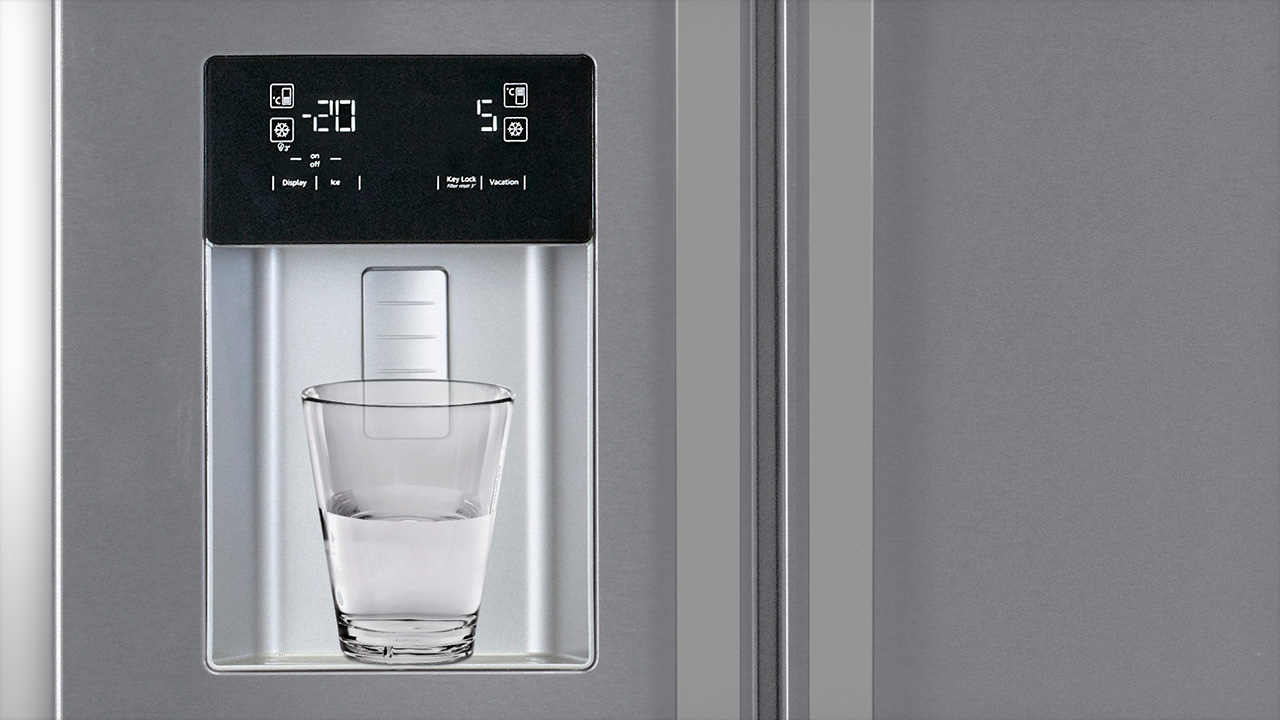 PLUMBED WATER DISPENSER
Enjoy the convenience of freshly chilled, filtered water, whenever you like, with a water dispenser that's plumbed directly into your water supply.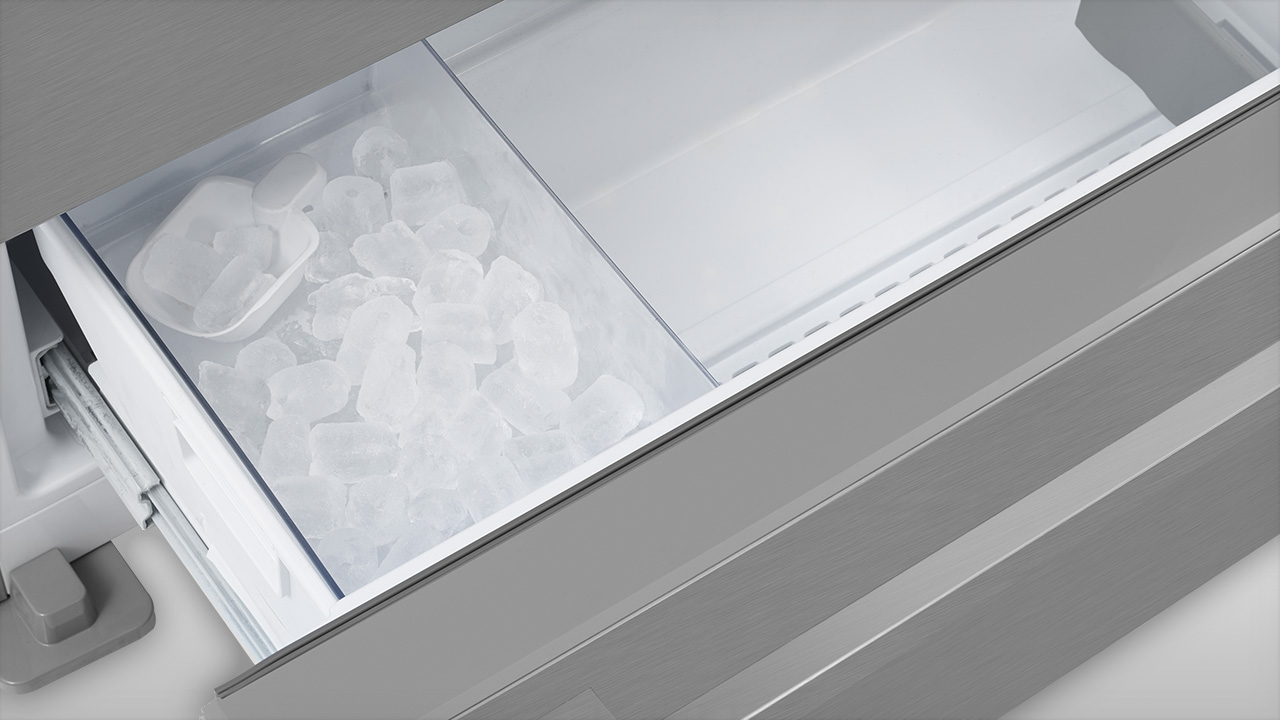 INTERNAL ICE MAKER
Working continuously to make sure you're always well-stocked with ice, our internal ice maker dispenses up to 1kg of ice in the freezer's bottom drawer every day, so you can enjoy freshly chilled, ice-cold drinks whenever you like.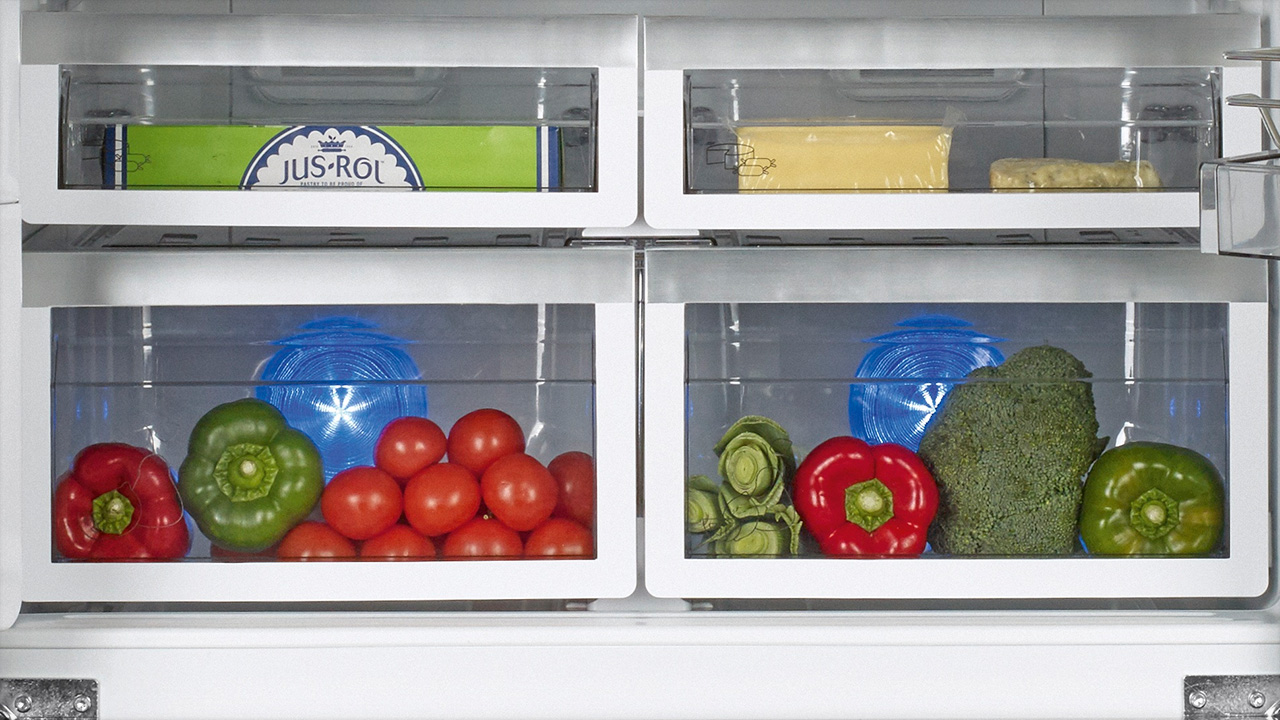 BLUE LIGHT TECHNOLOGY
Prioritising the longevity of your food's freshness, our Blue Light technology continues the natural process of photosynthesis in the crisper drawer to ensure your fruit and vegetables stay fresh long after they're bought. This eco-friendly innovation not only reduces unnecessary food wastage, but will also save you several trips to the grocery store too.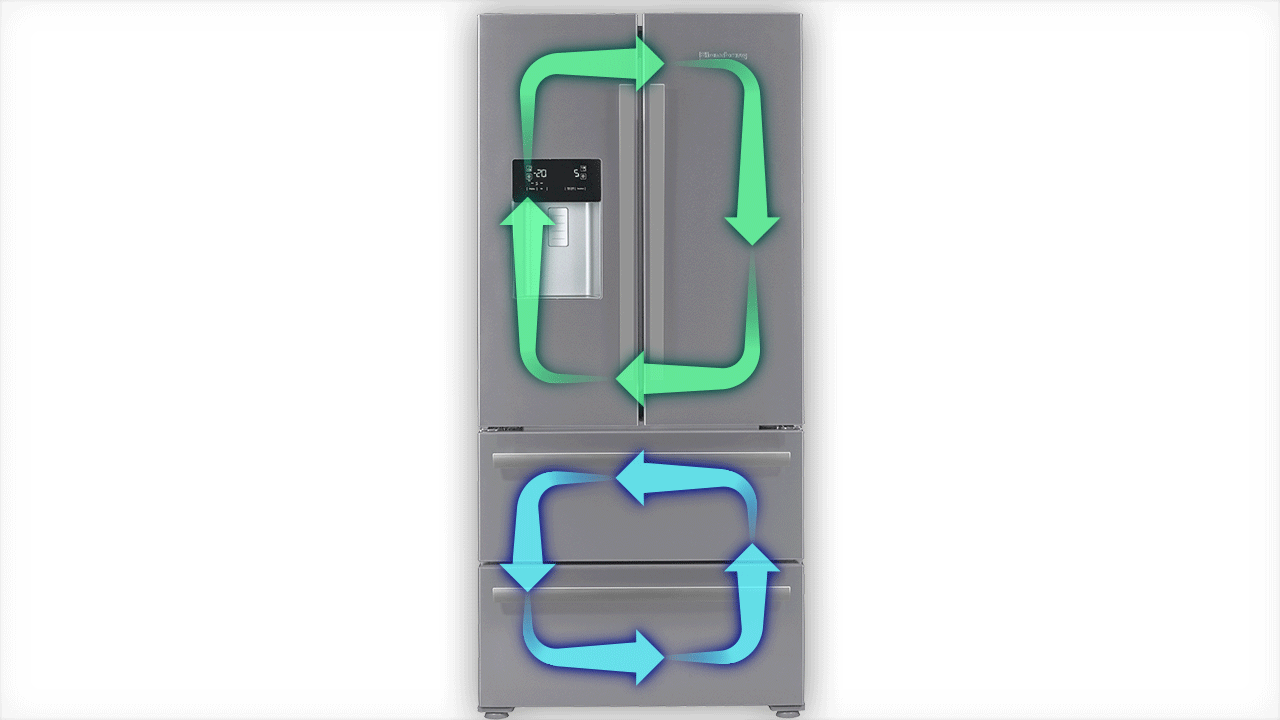 DUAL COOLING
The use of two separate cooling systems that work independently of one another helps your food benefit from optimal humidity in the fridge and a dry environment in the freezer. By preventing air from transferring between compartments, your chilled food will be fresher, and you won't need to worry about odours mixing between the fridge and freezer.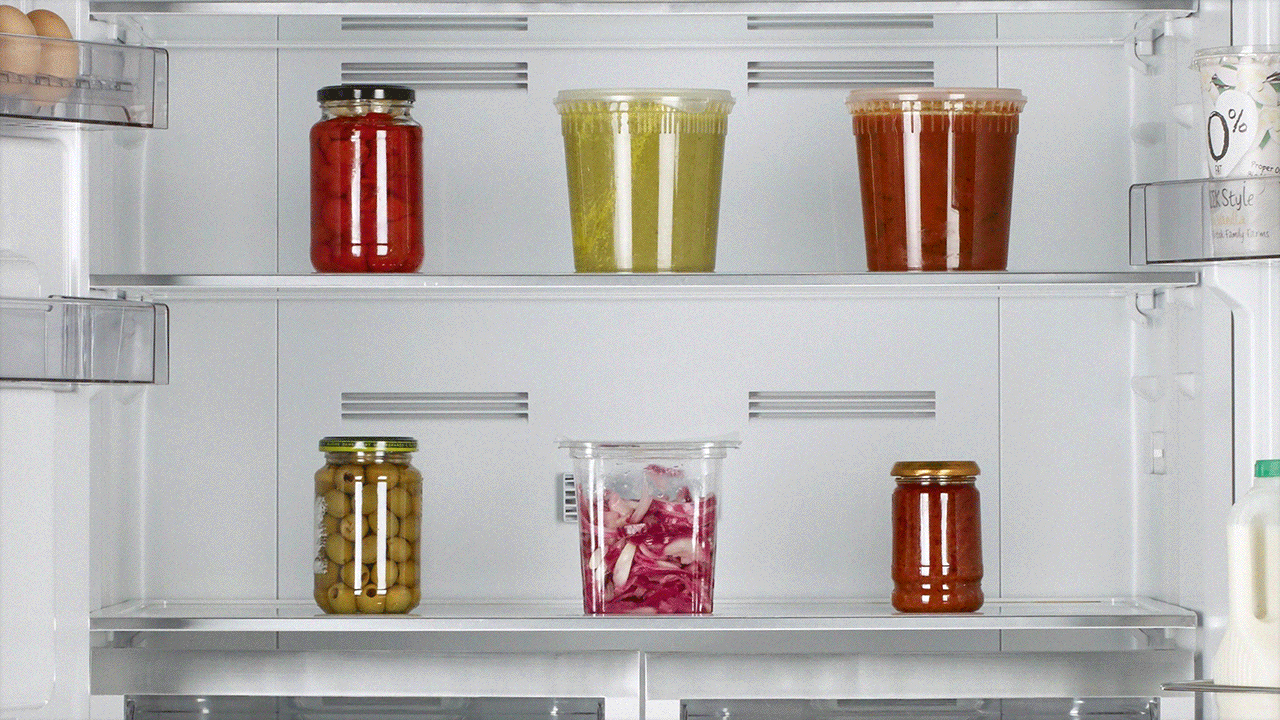 MULTIPLE AIR VENTS
Making sure temperatures remain consistent from shelf to shelf, cool air is circulated evenly around the fridge to keep all your food fresh. Multiple air vents in the fridge and freezer also help temperatures to rapidly restore to the right level after the appliance door has been opened.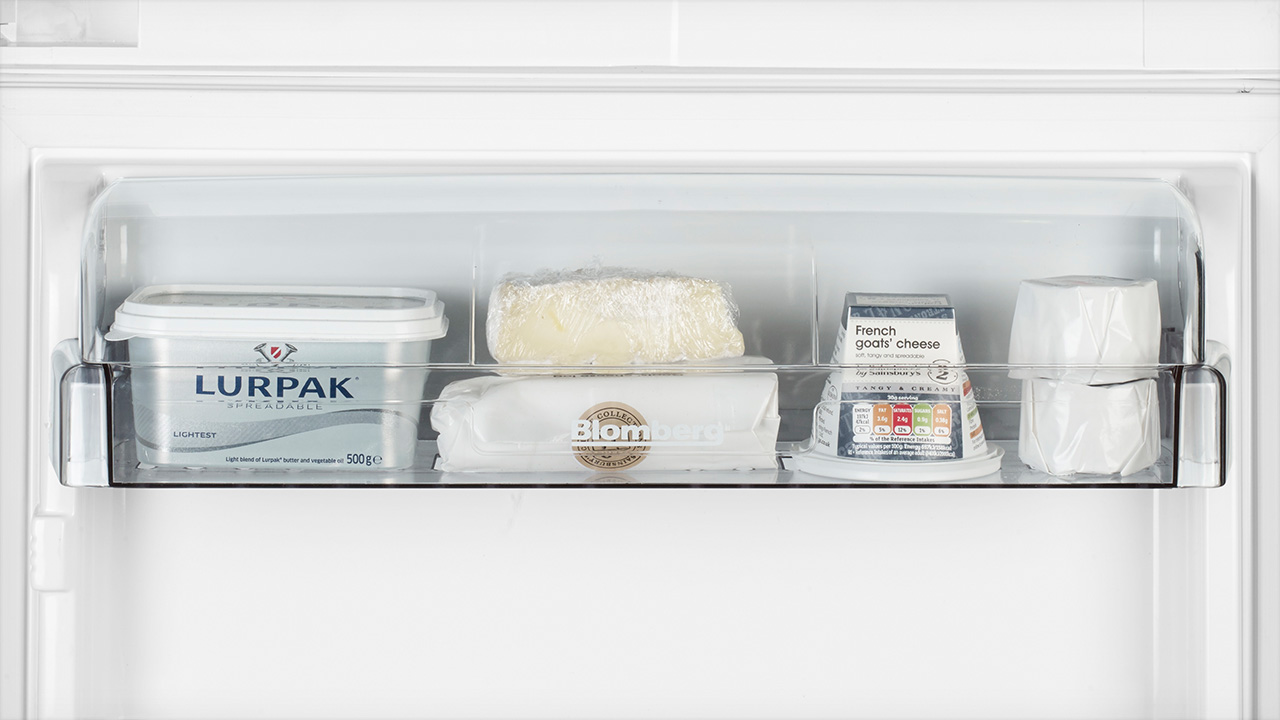 DAIRY COMPARTMENT
Store your butter, yoghurt and cheese selection in our dedicated Dairy compartment to help keep them fresh.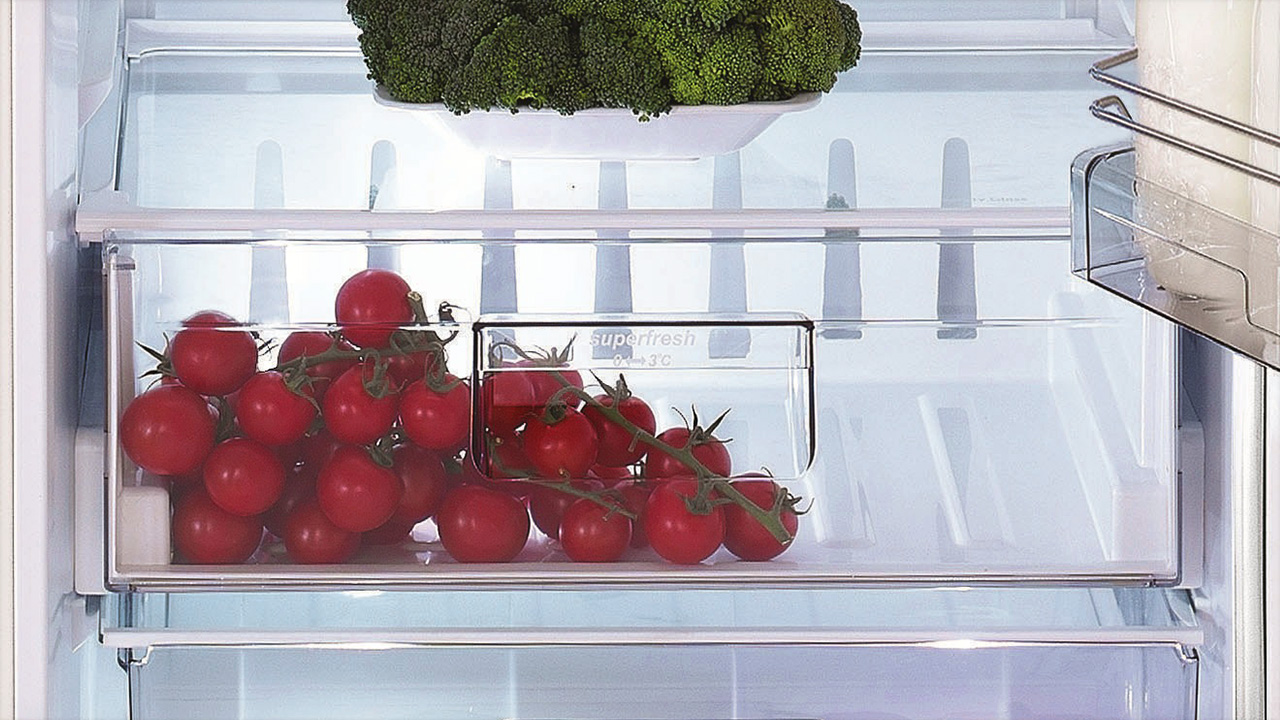 CHILLER COMPARTMENT
Providing the ideal environment for your meat, fish and dairy items, the chiller compartment maintains a low temperature of around 0°C to help them stay fresh for longer.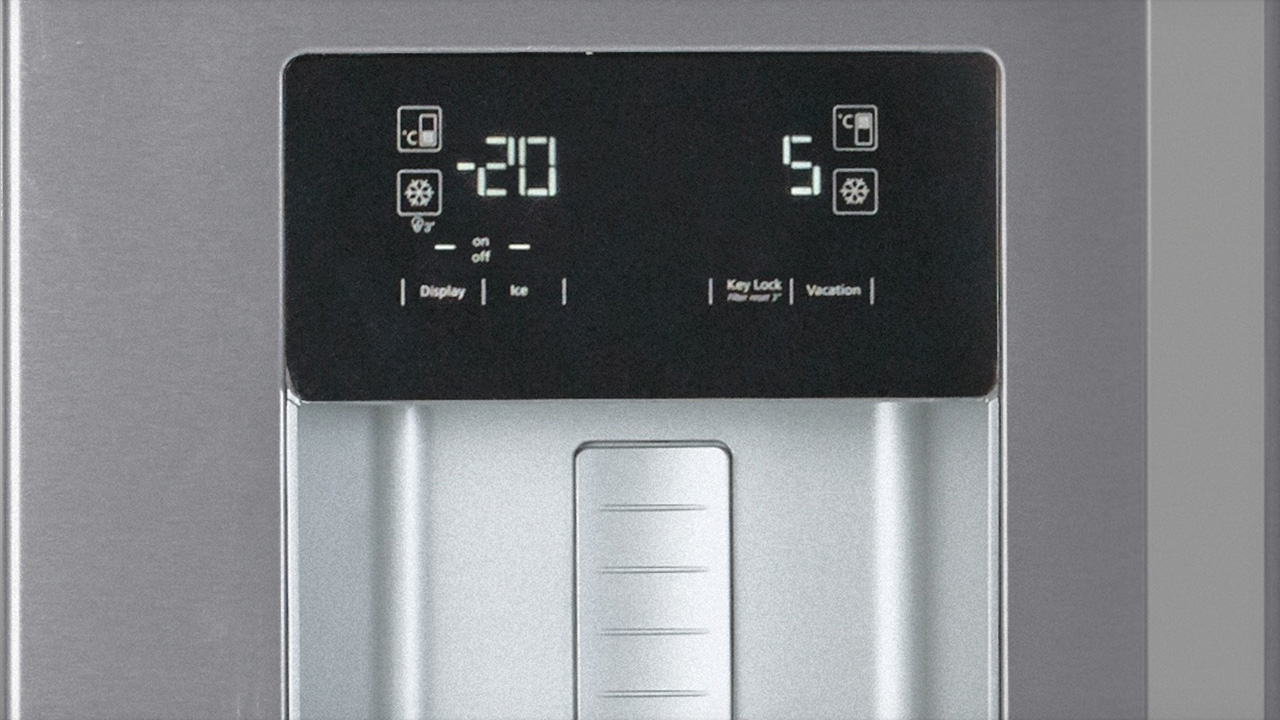 LED DISPLAY
Use the LED display to set your appliance to function in harmony with you, without even needing to open the doors. From selecting Quick Cool or Fast Freeze settings to activating our energy-saving Holiday Mode, you can enjoy complete control at your fingertips.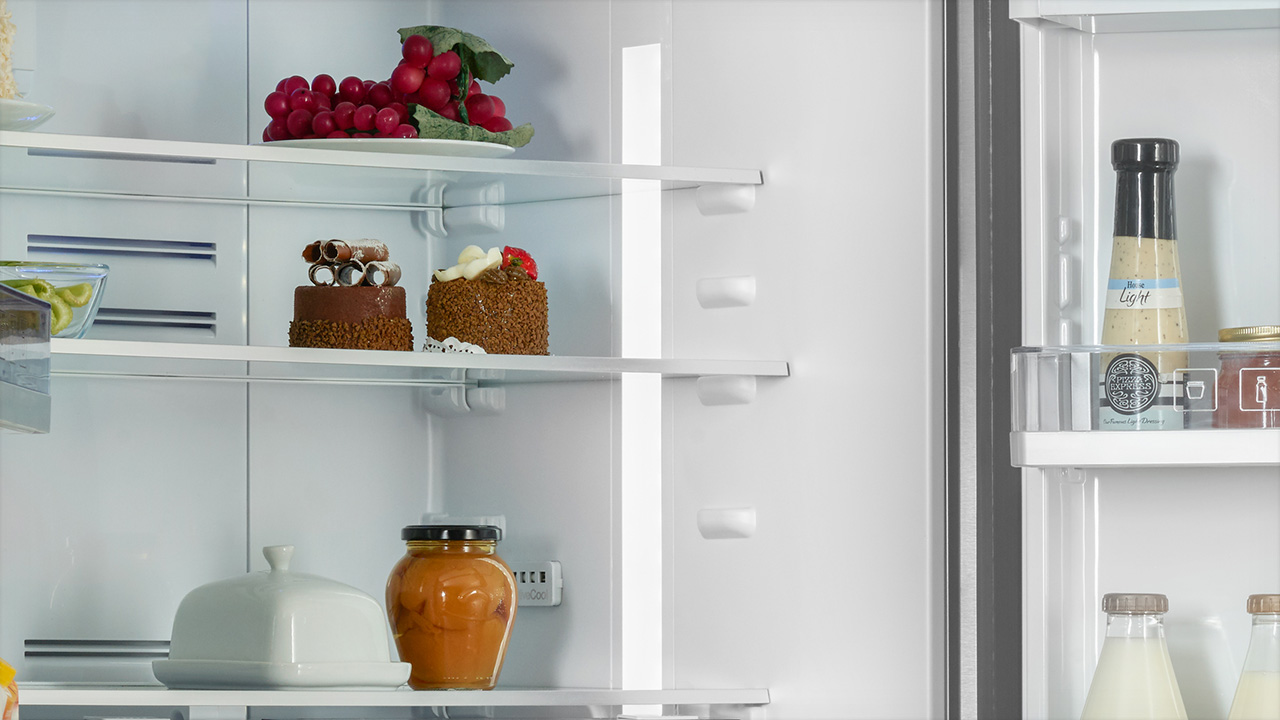 SIDE LED LIGHTING
Perfectly illuminating every shelf in your fridge, our LED lighting sits along the side of the appliance wall, allowing you to clearly see the entire contents of your refrigerator.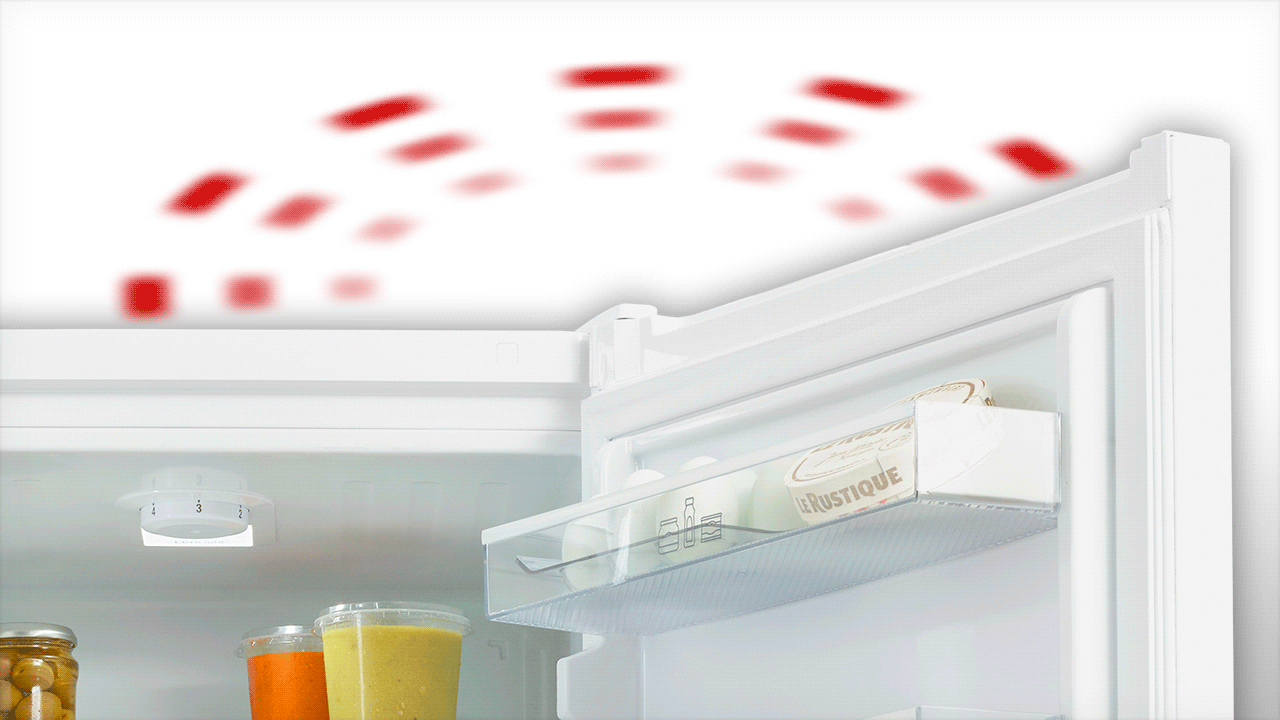 OPEN DOOR ALARM
With a convenient door open alarm, you'll always know when your fridge door has been left open too long.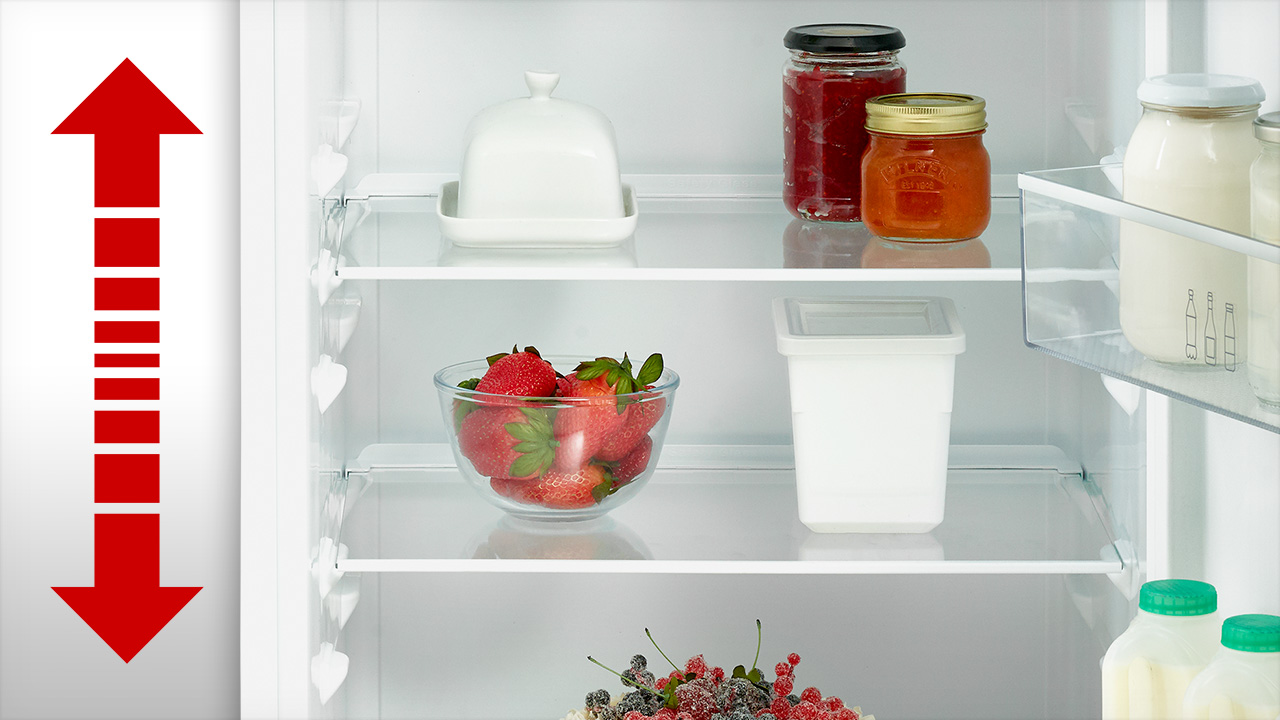 ADJUSTABLE GLASS SHELVES
We understand that flexibility is important when it comes to storing your groceries. That's why our glass shelves can be easily adjusted to different heights, making sure you always find space for your taller food items.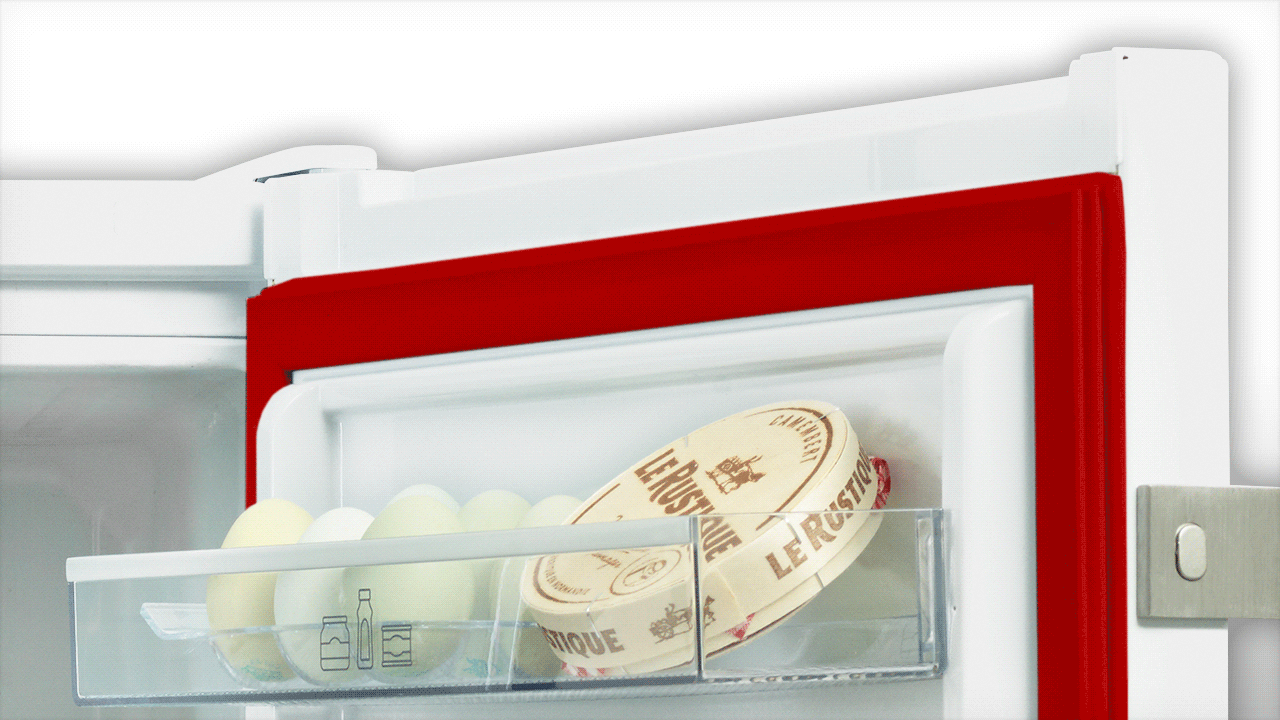 ANTIBACTERIAL DOOR SEALS
Specially designed to prevent bacteria from forming and entering your appliance, our antibacterial door seals promise to protect your chilled food from bacteria and unpleasant odours.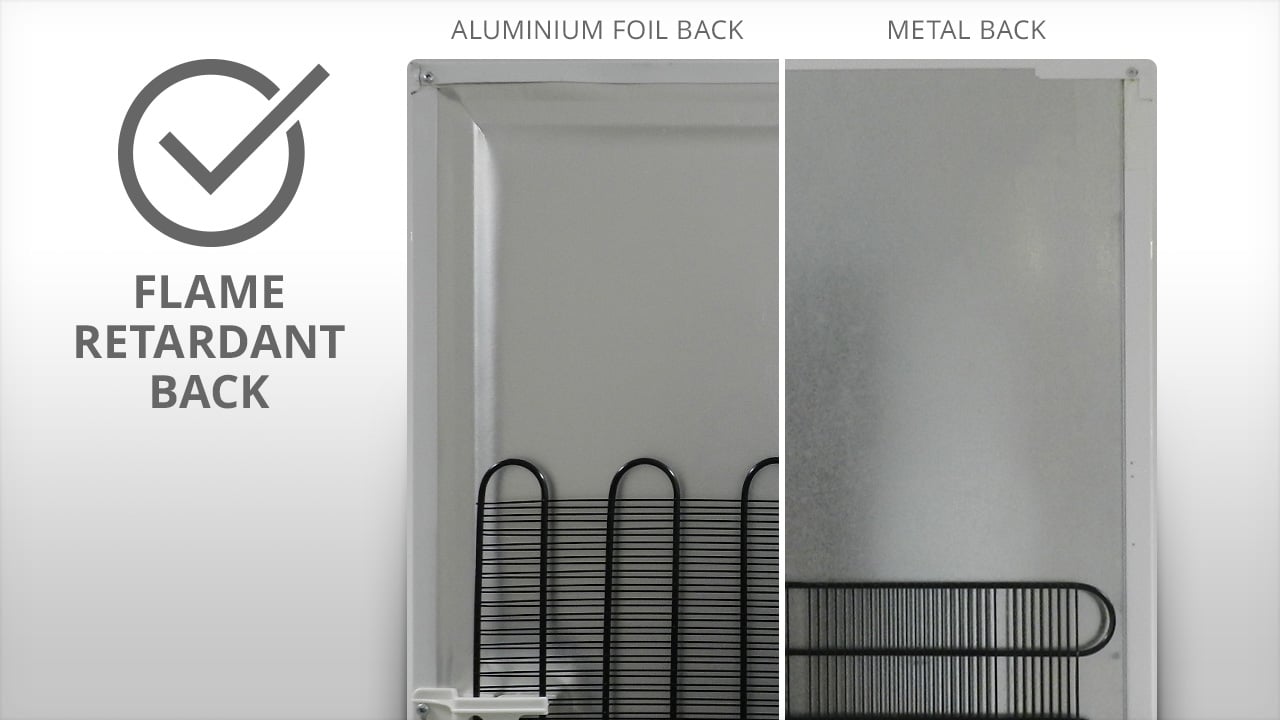 FLAME RETARDANT BACK
All our current refrigeration products are manufactured with either a metal flame retardant back or an aluminium foil covered flame retardant back, providing increased protection. All our refrigeration products exceed UK and European safety standards.
Note: Feature images are for illustrative purposes only